Zisis Petkanas of Greece's Rock Overdose, had the chance to speak with one of the best metal vocalists, Michael Kiske, who is best known for his work with Helloween. Now he is back with his band, Unisonic in who's ranks is his old friend Kai Hansen. You can read the interview below.
Rockoverdose.gr: Hello Michael. How Are you?
Kiske: Fine
Rockoverdose.gr: It's nice having you in Rock Overdose
Kiske: Thank you for your interest.
Rockoverdose.gr: I am a fan since the old days.
Kiske: Me too
Rockoverdose.gr: What are you up to, these days?
Kiske: I have ordered a furniture and the delivered a broken piece and so I had it replaced. That's what I did this morning.
Rockoverdose.gr: So what will the Greek audience listen to in your concert here?
Kiske: There will be five men on stage playing music and hopefully we will all have great time. We will see. I hope that there will be spontaneous moments. Up 'till now, the chemistry is amazing especially between me and Kai (Hansen) and this is something that I've missed since the Helloween days. There is always something interesting but as you understand I don't know what it's going to happen.
Rockoverdose.gr: I think that all of us we will be satisfied.
Kiske: And I think it will be great.
Rockoverdose.gr: Shall we expect anything else except Unisonic and Helloween songs?
Kiske: We have only one album with Unisonic. Now that we are with Kai we have to play some of the classic songs. It's something I've been waiting for 20 years.
Rockoverdose.gr: I think that there will be a whole Helloween atmosphere.
Kiske: That would be great. It was magical when I went on tour with Avantasia along with Kai. It was amazing. So we had the idea to do it. Kai came to the band because of the atmosphere between us and the fans.
Rockoverdose.gr: So you are a proper band. You will be together for many years.
Kiske: I hope so! As long as people are interested in our albums, we will be here. I was not in a band for many years and I am very happy that now it's happening.
Rockoverdose.gr: Tell us a few things about the Unisonic album. Who wrote the songs?
Kiske: We all write. Except Kosta (Zafiriou – drums), we all contribute. I can say that most of the music was written by Dennis (Ward – bass). I also wrote one and Mandy (Meyer – guitar) has a share. The only one that didn't write something was Kosta.
Rockoverdose.gr: Kosta left Pink Cream 69 to be more committed to Unisonic.
Kiske: I think he is doing a lot of stuff. He is also manager of Ash and Helloween.
Rockoverdose.gr: We hope that you will be here for a long time, because we like what is happening.
Kiske: I think we have enough support and if we sell a few albums we will learn how to exist, because at the moment we learn how to be together as a band.
Rockoverdose.gr: Have you ever thought joining Gamma Ray?
Kiske: Not really. We have a good relationship with Kai but they are a band with a 20 year history. You cannot join such a band. There will always be someone angry with that. It's a typical metal band. I like Unisonic more. We have more possibilities. We can be metal if we want but we can also try other things. I fit more that I would in Gamma Ray.
Rockoverdose.gr: Do you have anything for the next album?
Kiske: Yes we have some ideas. I think it will be very easy, because since Kai came to the band there is a lot of creativity. It will be very easy to make a second album.
Rockoverdose.gr: You think that "Unisonic" is a classic power metal album?
Kiske: It is classical but it has a modern sound. I name it a rock album that meets metal.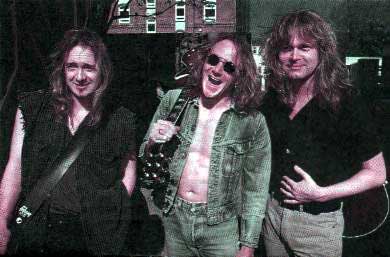 Rockoverdose.gr: When Bruce Dickinson left Iron Maiden, did anyone approached you as his replacement?
Kiske: Me? No! These are rumors that were on press and TV. It was very funny because I was watching a show on TV and they said that I was in talks with Iron Maiden. It was very interesting because I had no idea. I don't want Iron Maiden without Bruce. I am glad he is back.
Rockoverdose.gr: What do you listen besides metal?
Kiske: All my life I was open-minded. I like Elvis Presley… I have many of the new rereleases. I like many classic stuff. Even bands like Oasis. I listen to Snow Patrol and Coldplay. Of course I listen to classic heavy metal like Iron Maiden and Judas Priest. These were my main inspirations. This moment I am listening to Elvis and sometimes The Beatles.
Rockoverdose.gr: Back in the Halloween days. Would you like to tell us the best and the worst moment?
Kiske: The best moments were in the beginning. The "Keeper" albums when Kai was still in the band. All these years were great. After this, it was a nightmare. My worst time I think it was after Kai left. Everything was over. It was not good at all. They said bullshit for me in the press etc. I think it was my worst experience.
Rockoverdose.gr: That means that we will never see Helloween together again…
Kiske: That's not necessary. Unisonic have a lot of potential. If we did that we would have to replace Dennis with Markus (Grosskopf), and Mandy with Michael (Weikath). This is something I really don't want. Everything is fine as it is.
Rockoverdose.gr: How many Helloween songs do you play in your concerts?
Kiske: We play "I Want Out", "Future World" for sure. We may play "Kids Of The Century" or "A Little Time". We had some discussions for "March Of Time" as well. Kai wrote a lot of those songs and now that we are in the same band we have every right to do it. Together, we have the sound we had back then. I thought that I would never had the chance to sing them again so for me it's something really great.
Rockoverdose.gr: What are the reactions for your new album from press and fans?
Kiske: The reaction is very good. It seems that everybody likes it and they have a special opinion for it. We've been to France, England, Spain and obviously here in Germany… we had all kinds of reaction. There are people who say that we continued from the point of "Keeper 2" and some who say that we have nothing in common with the old Helloween, something that it's partly true. We don't try to copy Helloween. That would be wrong. We just do what comes in our heads. We simply write and play the music that fascinates us. That's the meaning of music. We do not try to make same albums as then but we are the same people. The songs that Kai writes, always had that feeling and sound. We have the same sound but we are not the same band. Different drummer, bass player and guitarist. It sounds different but me and Kai are simply ourselves. From outside you may find some similarities but underneath there are not many.
Rockoverdose.gr: We are very happy that you are going to play here in Greece. The Greeks are huge fans of metal music and you.
Kiske: Yes it's very nice. We had the same in Spain and it is really interesting because I hadn't been there for ages.
Rockoverdose.gr: Would you like to say something to the Greek fans?
Kiske: If there is anyone interested in what we do, then he SHOULD come to our concert. I do not know how many times we will be able to play there so you better come in this one.
Rockoverdose.gr: It will be a great festival with some great bands.
Kiske: I don't know who are playing but we will be there.
Rockoverdose.gr: The other bands will be Paradise Lost Machine Head bunt unfortunately not Black Sabbath because of Tony Iommi. Just Ozzy.
Kiske: What happened to Iommi?
Rockoverdose.gr: He won't come with the band in Greece.
Kiske: Why?
Rockoverdose.gr: You have not learned about it?
Kiske: He doesn't want of does he have health issues? I don't know
Rockoverdose.gr: He has a lymphoma
Kiske: Damn. I didn't know it. Band news… I wish him the best.
Rockoverdose.gr: It will be a great night.
Kiske: I am sure about it. It will be fun. It will be summer so the weather will be nice.
Rockoverdose.gr: What's your opinion for the metal scene now days?
Kiske: I don't find it very interesting. When I enter at this scene back in the 80's there were so many evolving bands. Now nothing much is happening. I was never a huge fan of the scene except for bands like Iron Maiden, Judas Priest, Queensryche and Metallica. I grew up with these bands.
Rockoverdose.gr: Would you like to announce anything else about you or the band?
Kiske: We will do a small tour in South America in 2 months and then we will go to Japan with Kai for the promotion of the new album. And then we have the summer festivals. Everything goes very well. We will see. We are still in the beginning. It's just the first ablum.
Rockoverdose.gr: Do you plan to record any of your concerts for a DVD or a live album?
Kiske: It will definitely happen sooner or later. It's something you do when you are in a more advanced level. We are still in the beginning. Especially live. We have done only one concert with Kai in the band, in Japan.
Rockoverdose.gr: I would like to thank you for the interview
Kiske: Thank you.
Rockoverdose.gr: We are looking forward seeing you in Greece in 1st of July.
Kiske: So do we.
Questions: Giannis Koutsosimos
Comments