RockOverdose and Zisis Petkanas had the chance to chat with Sebastian Seeb Levermann- Singer and Producer of the German power metal band ORDEN OGAN on their brand new album, "Final Days", released on March 12 via AFM Records.
Sebastian Seeb Levermann, comments on the bands new album and shares his thoughts on the future of music industry after the pandemic.
Enjoy!
---
RockOverdose: Hi Seeb and welcome to RockOverdose Greece! How are you?
Sebastian "Seeb" Levermann (Orden Ogan): I'm fine! How about you?
RockOverdose: I'm very fine, as much as possible with all this pandemic situation around.
Sebastian "Seeb" Levermann (Orden Ogan): Yes that's true! I'm on the phone all day  for the last two weeks and everyone is complaining. It is what it is, we can't change it.
RockOverdose: Let's just cross our fingers and hope it will end soon.
Sebastian "Seeb" Levermann (Orden Ogan): Well, I don't know! I don't think it will be any shows this year. In Germany there are some art festivals scheduled, but I really don't believe there will be bigger festivals this year.
RockOverdose: Would you like to tell us a few things about your new album "Final Days"?
Sebastian "Seeb" Levermann (Orden Ogan): Yes! It is a classic record, if you're familiar with the band. There are couple of new elements in the recording, we usually tend to pick a new theme - e.g. in our previous record it was this wild West theme, cowboys and that stuff. This time we decided to pick something more dark, science fiction theme, so obviously we put on some electronic elements into the music. But I think it's music is fresh for the fans, you never really know what's coming, it's probably our most diverse record! There are more progressive tracks on the record like the In the Dawn of the AI, then we got a song with more 80's classic heavy metal riffs like in the Let The Fire Rain and other more complex like Hollow, so I think we have something for every taste on this record! I have to say that the response of the press critics so far it's amazing, beyond amazing actually! I A lot of people seem to really like it! It's fantastic, great! We're really overwelmed!

RockOverdose: Really great! How would you say your sound has evolved since your start. 
Sebastian "Seeb" Levermann (Orden Ogan): There's been some misinformation about the band in the internet if you look up, they write that we've formed in 1996, but we count the history of Orden Ogan from 2008 when the was released! That's the profesional band that you know now, I mean in 1996 I was 15 years old and get my first guitar, we were not really a band. We split up 2007 and re-founded the band and started fresh with another name, more professional.
I think personally that the sound itself doesn't really evolved very much, its core has always been Orden Ogan, the harmonies, the melodies, we are very specific on what we do. I think the production gets better and better, we always do the best that we can. "Final days" is probably the fastest album we've done so far and the best work we've done in the studio in general. The only thing that really has evolved over the years - I mean if you take the record Easton Hope (2012) that was in parts super progressive - we know that we can do that, we didn't do it in that record though. It's a lot more than the song itself. I realized that simple can also be great. Maybe that's the biggest revolution actually.
RockOverdose: Your new album features also very interesting collaborations with Ylva Eriksson and Gus G.. Would you like to tell us more about them?
Sebastian "Seeb" Levermann (Orden Ogan): I make my little from Orden Ogan and a lot of people are geting a bit of money as Orden Ogan is growing, but I never see it as a commercial thing, it just comes from the heart. It's the music that I love and really want to do, regardless if there're 3000-4000-50000 even 14 people listening or buying our stuff, I would do it anyway. It's what the guest can bring to the table, and not finding the biggest name to make a guest performance.
Gus G. is one of the best guitar players on the planet! When writing the album we had some problems with our guitar player , he is on vacation, he's not replaced and we figured that it was going to be difficult to find somebody do the solos. But Niels (Löffler) our former bass player and guitar player said that he can ask Gus, he knows him as they toured together. Obviously is an honor for us to have him on the record, we're big fans of his work and the solo also turned out exactly how we pictured it! That was great!
The song "Alone In The Dark" we did with Ylva Eriksson, same there as well. We knew there have to be a female voice vocals for the second chorus cause the lyrics were written from two different perspectives. There were a lot of names when thinking who could do that, one guy from AFM Records suggested Ylva and I listened her, tried to figure out how her more fragile melangolic voice would fit in the song and I thought this could really be great. So we send her the tracks and she send back the final result that was absolutely amazing. She really nailed it!
RockOverdose: What do you miss most from the pre-covid era? How do you believe that the future of the music industry will be from now on?
Sebastian "Seeb" Levermann (Orden Ogan): I'm one of those guys not crying around so much, when things don't go like they should be. What can we do? Obviously we miss playing live and meeting friends, but I'm super cautious and almost don't meet anyone at all and just to skype meetings and video calls. I do think we will return back to normal at a certain point, it will be over and at least with the vaccines the pandemic will end in about 3 years. It will be over.
About the music industry, I think with all these digitalisation there is a lot of staff that is really moving the last years. Maybe in the future rock stars will be made via twitch, youtube etc It's always weird and a bit scary for a band that's already established, but for me that my second main job is a music producer, I've been working with bands like Rhapsody of Fire, Brainstorm etc and I get that question constanty, for me it's great for the bands, they can save a lot of money and sell their stuff by themselves. I don't think I will ever lose my job because you'll always lead somebody who doesn't have so much experience.  When I remember the first years with Orden Ogan, we wouldn't have been able to record any album if we didn't have our own computers, home pc's etc We didn't have money to pay for using a studio for a month! We had to do it ourselves. It's an opportunity.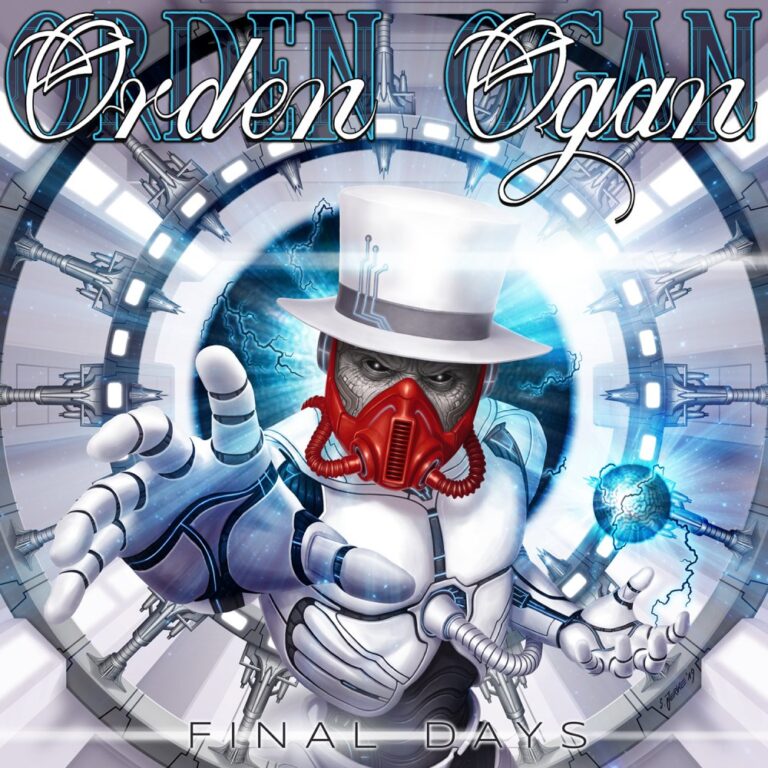 RockOverdose: What about the future plans of Orden Ogan?
Sebastian "Seeb" Levermann (Orden Ogan): We had actually planned our tour on September last year with special guests Rage and Grave Digger but we had to postpone it due to the pandemic, for April this year, but then Rage and Grave Digger couldn't make it. So we planned together with Brothers Of Metal and Wind Rose but we had to postpone it again, so we pushed it back to February next year when I think it's more realistic, I think in 2022 people will be more happy to come back to shows and the first shows that will happen will be crazy!
About this year, we've been thinking of maybe doing a streaming show, however a lot of the streaming shows that I've seen made me sad, to see a band perform in a totally empty venue. I had it for years, I don't need that anymore! Maybe we will do something in a different way, maybe like a crowdfunding show. I don't like crowdfunding when it is for making a record but in this case is more like an offer to the fans, if they really want to see us live they can also support us. All eyes are on the record now.
RockOverdose: Do you have any memories from Greece?
Sebastian "Seeb" Levermann (Orden Ogan): We've been in lot's of tours the last years, as a support band and as a headliners but unfortunatelly none of these tours went to Greece! However, I remember we did one show in Greece, in Drama. It was done by a very nice guy Kostas, from the band Oversense. We had an amazing time still, I had a lot of souvlaki! I'd love to come back! If greek promoters hear us, we'd love to come back!
RockOverdose: Last words yours! Send a message to our readers and listeners!
Sebastian "Seeb" Levermann (Orden Ogan): Stay healthy and don't lose hope. A lot of people are already losing their jobs, shops are closing down , the economy is going down. Depression is on the rise, big way because of the pandemic. Don't give up, it's not the end of the world! It will get better! Music helps! Listen to our record!
RockOverdose: Thank you very much and wish to visit Greece soon and enjoy greek wine!
Sebastian "Seeb" Levermann (Orden Ogan):Thank you very much!
Follow Orden Ogan!
Spotify: https://open.spotify.com/artist/3t5X2...​
Apple Music: https://itunes.apple.com/artist/orden...​
Facebook: https://www.facebook.com/ORDENOGAN/​
Instagram: https://www.instagram.com/seeb.ordeno...​
Website: https://www.ordenogan.de
Buy: https://fanlink.to/OrdenOgan_FinalDays​
Stream: https://fanlink.to/FinalDays
For RockOverdose, 
Zisis Petkanas
Comments